I already knew that I would hardly manage more than one blog post in February, because there were all kinds of other tasks waiting for me. I'll tell you about some of them in this monthly review. Although I knew it beforehand, I struggled with myself because I only published one article in February. I learned while writing this post how useful such a monthly review is - because then I realized how many things I actually have managed in February 💪 😃.
1. My Blog is Now also Available in English!
Although I only went online with my website in December, I decided to keep it bilingual from the start. I've been posting about my travels on Instagram for two years now, and about 75 % of my active Instagram followers don't speak German. In Germany, many foreign tourists only visit Munich, Rothenburg ob der Tauber and Neuschwanstein Castle. I want to change that - so I have to write in English, too, because the automated Google translations are sometimes atrocious. A hard piece of work for a new blogger, but now I'm so relieved that it's done, and from now on I only have to translate the latest blog post!
Web designer Birgit Hotz, where I took a WordPress and Divi course in 2022 to build my website, recommended TranslatePressas a translation plugin. There are a number of good reasons to use TranslatePress for translating your website:
TranslatePress generates automated translations, optionally with the Google Translator or with DeepL (only available in the paid version). I have been using DeepL as a translation tool for a long time and find it much better than Google Translator. Of course, all translations still need to be edited, but it's much easier with DeepL.
With a user-friendly visual interface, TranslatePress enables also the translation of permalinks, menus, widgets, meta descriptions, image captions and alternative text, links to other websites - simply of all the website's components.
During translation, I can switch back and forth between the German and translated versions of the website.
TranslatePress can be integrated into the most popular WordPress SEO plugins (Yoast and RankMath) to generate a multilingual XML sitemap.
For €159 net per year, I have a user-friendly tool that gives me the best automated translation service currently available. This cost includes 500,000 characters translated per month with DeepL, which is plenty for me (in January, when I translated the majority of my existing pages and posts, I came up with just under 380,000 characters).
Admittedly, I had imagined the task of translating to be less jerky. It took me a few days to get used to TranslatePress. In the meantime, however, it has already become a routine task, and I am very glad that I decided to go bilingual early on.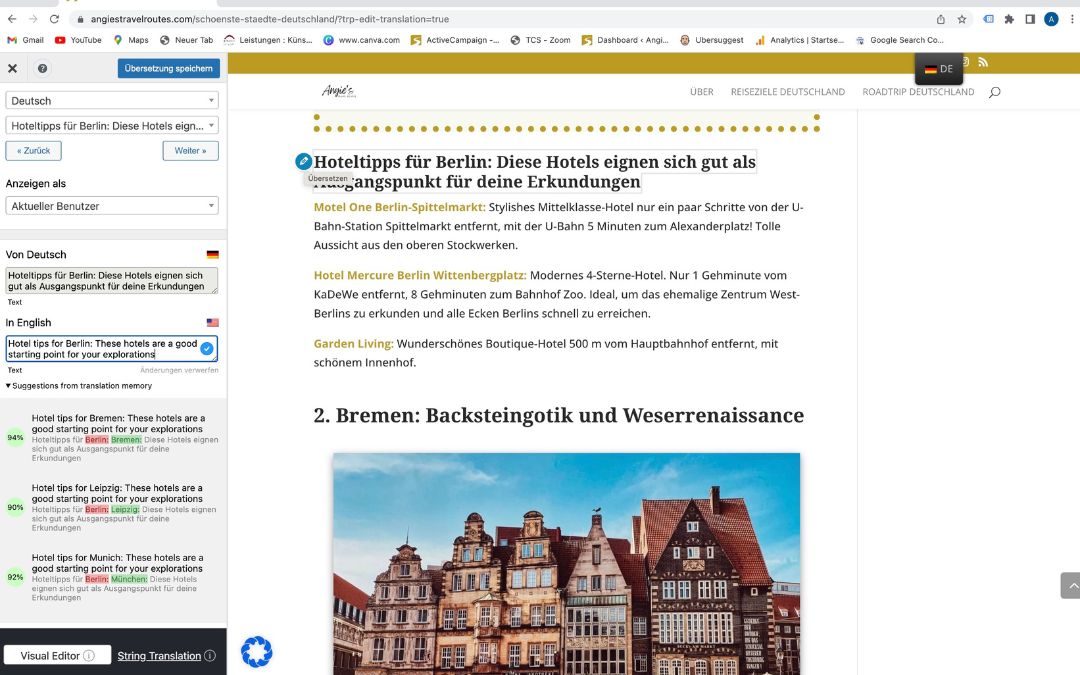 2. ChatGPT Workshop: New Tricks for Using Chatbots
In early 2023, a new artificial intelligence (AI) made a splash - ChatGPT.Journalists, lawyers and even bloggers wondered whether they would soon become obsolete because the AI could allegedly even write poems in the style of Rilke and had passed a state law exam. Teachers and parents feared that children would be deprived of independent thinking in the future. After hearing about this for the first time, I registered and took initial tests on the topics of my travel blog. I found the results disappointing at first. Some of the information was incorrect, and the linguistic quality was far from perfect.
What exactly is ChatGPT and what can you do with it? Let's just ask ChatGPT:
Angelika: Explain in 3 to 4 sentences what ChatGPT is.
ChatGPT: Hey, I am ChatGPT! I'm an artificial intelligence chatbot developed by OpenAI. I've been trained to have human-like conversations and provide answers to a variety of questions based on the extensive knowledge I've gained during my training. Whether you're looking for conversation, information, or help, I'm here to help!
This sounds good, but points to a catch: ChatGPT was fed with data until 2021, so information can be wrong. However, the development seems to be progressing at breakneck speed. In the meantime, I find the results much better than in January, both in terms of language and content. I'll ask ChatGPT whether it also accesses current information in the meantime: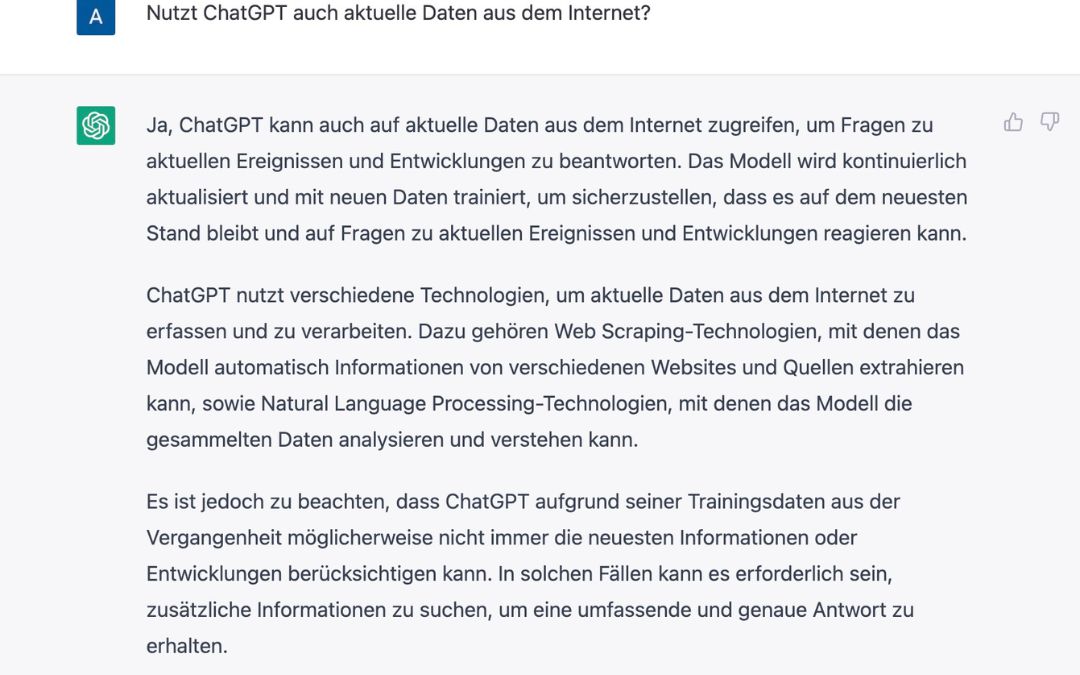 Well, that's a very detailed and linguistically flawless answer. However, fact checking is still mandatory! And as before, ChatGPT does not disclose its sources.
I got many helpful tips on how to use ChatGPT and Bing AI (the competing tool from Microsoft, which even includes sources) from Judith Peters' blogpost and in the AI workshop as part of her annual program for bloggers, The Content Society. I learned, among other things, that the quality of ChatGPT's answer depends on the "prompt" - that is, the more precisely I specify my question, the more satisfied I will be with the result.
Does that mean I'll have ChatGPT write my blog posts from now on? In fact, I have the impression that some travel bloggers have been using AI for their texts for quite some time - these sometimes sound very generic and uncharitable. However, I am excited about the possibility of having ChatGPT or Bing AI do time-consuming research work for me. I find it very useful when I no longer have to laboriously gather certain information on various websites or from books, but have my artificial assistant for that 😃. Even if I still have to cross-check information, I can save myself so much routine work that I can write more useful articles in less time in the future. I'm already very excited about the further development of conversation-based AI. For me, one thing is certain - this is the beginning of a digital revolution!
3. VG Wort Tracking Pixel - the First Step to Monetize My Blog
In Germany, authors have the opportunity - depending on the size of a text and the number of readers - to receive royalties for their work. The interests of the authors or creators are looked after by the VG Wort (Verwertungsgesellschaft Wort). The money is collected by companies and institutions that theoretically use or distribute the works of VG Wort authors.
Authors on the internet, such as bloggers, can be paid by VG Wort via "VG Wort royalties". This is a remuneration for the use of texts on the internet, which is recorded via so-called "tracking pixels". A tracking pixel is an invisible image in a blog post or website that counts the number of times the text is viewed.
If the text has at least 1,800 characters and the threshold of 1,500 views per text per year is reached (over 10,000 characters only require 750 views), the author receives a payout of currently (for 2022) €43.86 per text. There are no specifications regarding the number of blog posts that must be published.
As a blogger, I have signed an agreement with VG Wort and applied for the tracking pixels. Authors are responsible for integrating the tracking pixels and reporting the number of views on their texts each year. The whole process is a bit complicated. There are currently two WordPress plugins - Prosodia , as well as Worthy - that make it easier to count and report views. Since Worthy is not free (but a bit more comfortable than Prosodia) and I can't predict if I will even reach the required number of views for my articles this year, I decided to use Prosodia.
Fortunately, there are YouTubers who have created helpful guides on how to use the tracking pixels. Thanks to Udo Telaar's tutorial I had no problems assigning pixels with the Prosodia plugin.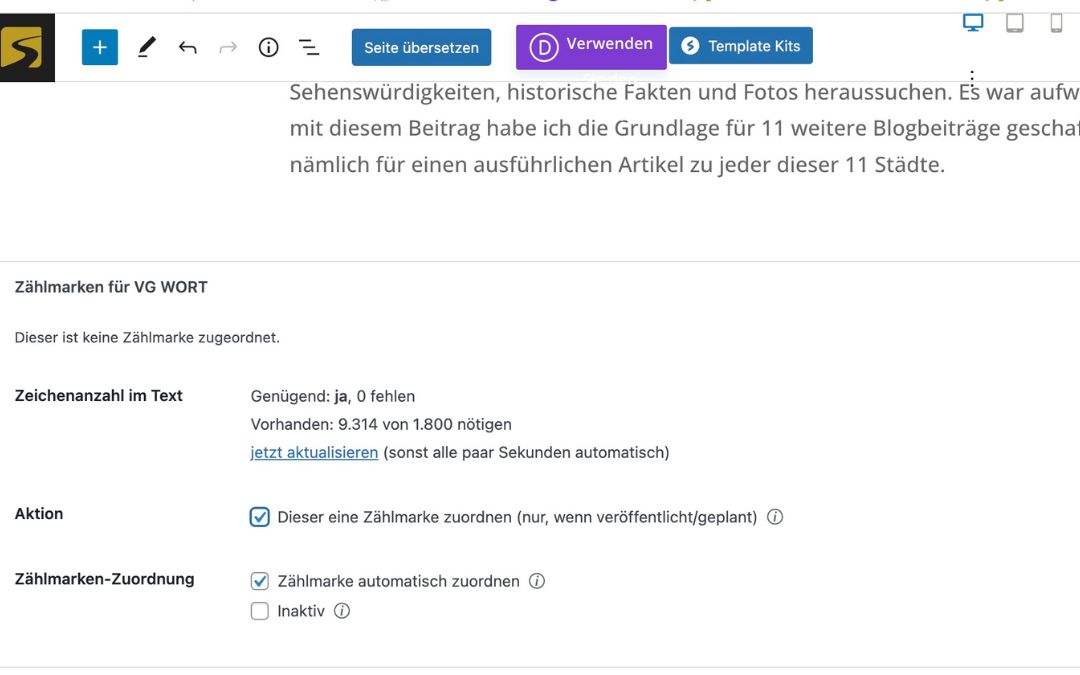 4. What Are the Most Beautiful Cities in Germany? One Blog Post as a Basis for Many More
In the annual blogger program The Content SocietyI've been taking part in since January, the plan is to write one blog article per week. Admittedly - the fact that I've only written three posts so far in 2023 discouraged me a bit. My one post in February was inspired by a weekly theme from The Content Society blogger coach Judith, who suggested to write a "What is ...?" expert article. At first, I thought of "What is the most beautiful city in Germany?" Since I couldn't answer that question for myself, I decided to write about a number of beautiful cities, hoping to find an answer while writing. I know my home country pretty well by now, and quickly knew which cities belonged in this article. I decided on 10 places (plus Rothenburg ob der Tauber, which is out of competition) - it could have been 20, but then I probably wouldn't have published the article until today. Because for each town I had to pick out the most important sights, historical facts and photos. It was time-consuming, but with this post I created the basis for 11 more blog posts with this article - one detailed article on each of these 11 cities.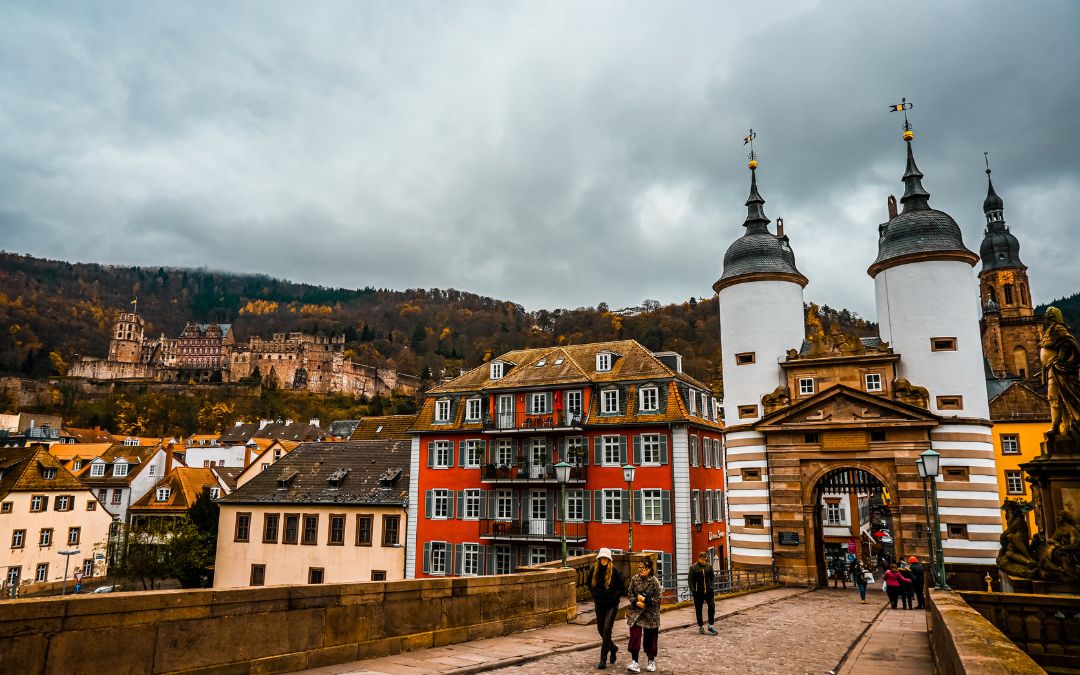 5. What I am Looking Forward to in March
My sister's 60th birthday
In my family, birthdays are rarely celebrated in a big way, but for her sixtieth, my sister is having a big party this coming Friday. The whole family and many friends will be there. I am especially happy that my daughter Anna, who lives in Innsbruck, will also come 😍
Newsletter Workshop in The Content Society
Each month, the Blogger Coaching program has a focus topic. In March, that will be the newsletter. It will be exciting to finally send the first newsletter to my subscribers 😅
Vacation planning
Nile cruise, long weekend with my sister and her best friend, girls' getaway ... I haven't booked anything for this year yet, but in March plans will be concretized!
And how was your February?
What do you have coming up in March? Tell me in the comments!