April has a special meaning for my family and me, as both my mother's birthday and the anniversary of her death fall in this month. It is important for us to spend time together on these days and share beautiful memories.
Insgesamt war dieser April ein Monat voller aufwühlender Ereignisse, neuer Erfahrungen und inspirierender Begegnungen. Von einem spannenden Blogger-Event bis hin zur zauberhaften Magnolienblüte im Kloster Maulbronn möchte ich einige besondere Momente mit dir teilen. Zudem habe ich mich der herausfordernden Aufgabe gestellt, meinen bisher längsten Blogartikel zu schreiben.
Der Mai verspricht schöne Erlebnisse: mit einer Freundin mache ich einen Kurztrip nach Heidelberg, und ab Ende Mai gehe ich mal wieder auf Deutschland-Tour – bis mindestens Mitte Juni werde ich von Weimar über den Harz bis zur Ostseeküste bei Lübeck unterwegs sein.
1. The Content Society (TCS): Blogger Event in Stuttgart
Seit Januar bin ich Teil der Bloggerinnen-Community The Content Society (TCS) by Judith Peters' und war sehr gespannt auf das Live-Event, bei dem ich zum ersten Mal Judith und den anderen Bloggerinnen dieser Gemeinschaft "in echt" begegnete. Am Abend des 21.4. trafen wir uns zum Warm-up-Abendessen in Sophie's Brauhaus in Stuttgart. Ich fühlte mich in der fröhlichen Runde von etwa 60 Business-Frauen, die mit dem Bloggen einen gemeinsamen Nenner haben, sofort willkommen. Business Coach und Vierfachmama Julia Mack was an interesting and inspiring conversation partner for me in the really noisy Brauhaus.
Am nächsten Morgen begann um 9 Uhr dann in den Räumen der Design Offices in Stuttgart das Seminar. Eigentlich gar nicht meine Zeit, denn ich musste schon um 6:30 Uhr aufstehen, um pünktlich vor Ort zu sein. An diesem produktiven Tag entwickelten wir Ideen für neue Blogbeiträge und arbeiteten an unserem eigenen Angebot. Besonders wertvoll war für mich die Zusammenarbeit mit fünf anderen TCS-Bloggerinnen in einer Mastermind-Gruppe, in der wir uns gegenseitig zu einem jeweils selbst gewählten Thema und in einem festgelegten Zeitrahmen Feedback gaben. Ein herzliches Dankeschön an Bianca Blatz, Friederike Lehnert, Gesa Oldekamp, Kerstin Sander and Lorena Hoormann.You were a great team and your ideas have brought me a lot further in the search for my claim 🤗 🧡.
It was such a surprise to see Maren Schmidt at the TCS event, with whom I worked in the same team over 20 years ago. Life is full of surprises!
Inspired by interesting ideas and new contacts, I arrived at home in the evening and first needed some time to digest my many impressions. This jam-packed day will continue to have an effect for a long time!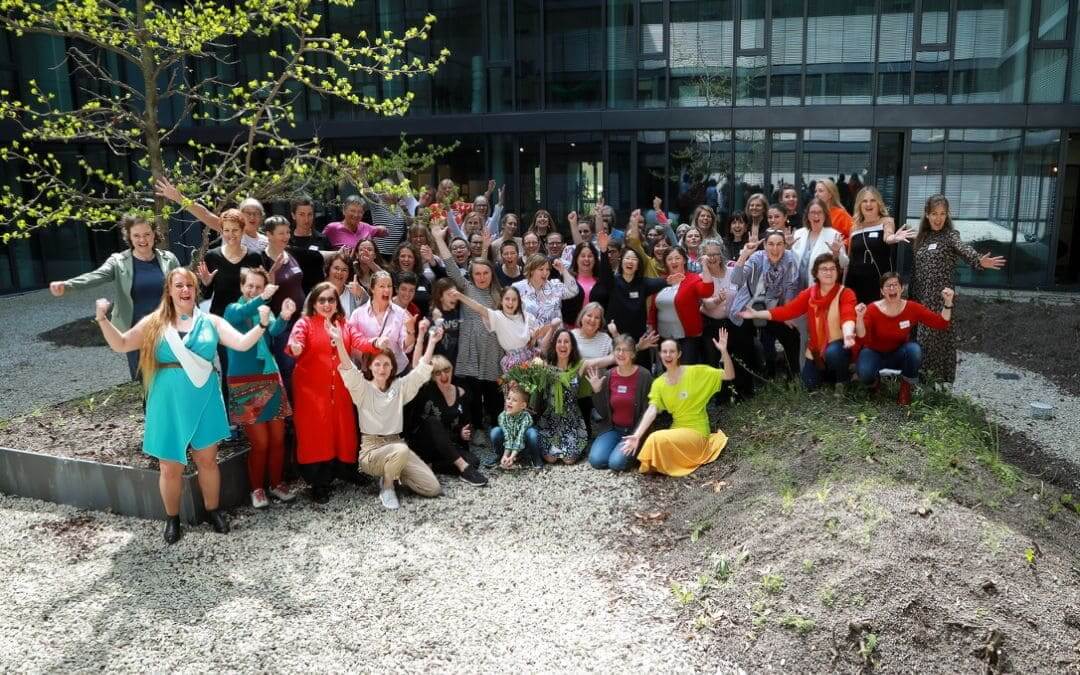 2. Spring Excursion: Magnolia Blossom in Maulbronn Monastery
Already last year in April I had visited the UNESCO World Heritage Site Maulbronn Monastery which is just an hour's drive from where I live. And because it was so beautiful there, I repeated the trip this year. The monastery garden is particularly enchanting in spring, when an ancient magnolia tree unfolds its flowering splendor. The fountain from 1794 in the monastery courtyard is decorated every year by the "countrywomen". On the meadows and stone terraces of the landscape shaped by the Cistercian monks, nature explodes in all the colors of spring. Since I had already taken part in a guided tour of the monastery last year, I could visit the monastery museum and take a walk around the monastery grounds and through the vineyards this time. For my excursion I had chosen probably the most beautiful day at the beginning of April and could even enjoy coffee and cake in the monastery beer garden in glorious sunshine.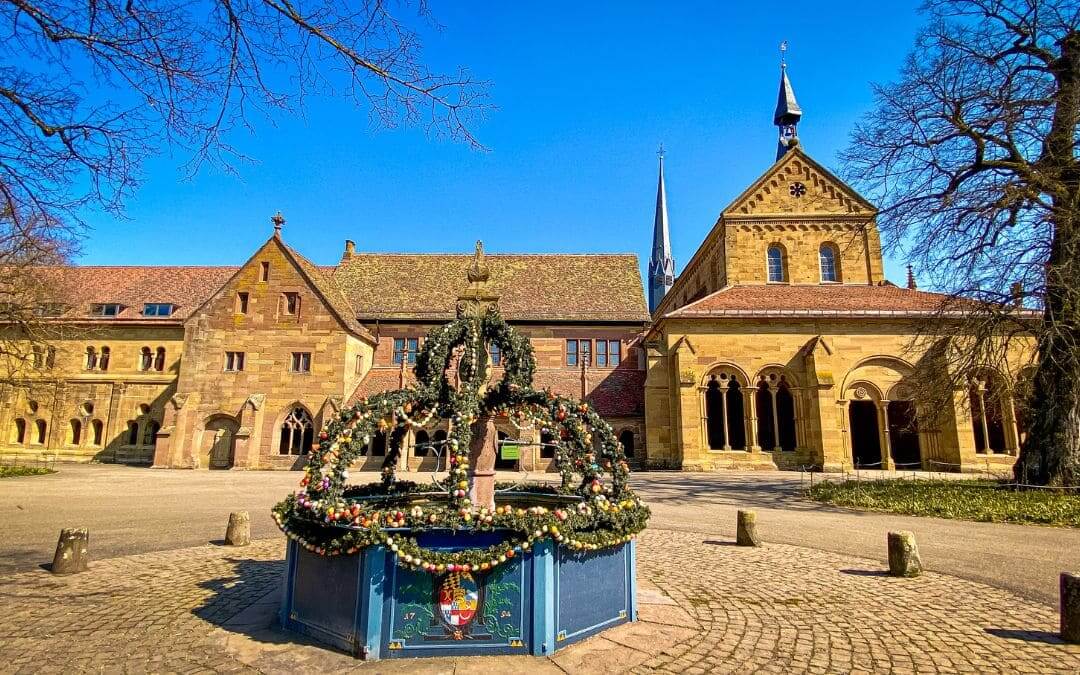 3. UNESCO World Heritage in Germany: My Most Comprehensive Blog Post to Date.
Mein Besuch im Maulbronn Monastery, gab mir den Anstoß, einen Blog-Vorschlag von Judith Peters von vor einigen Wochen aufzugreifen und ein Listicle zu schreiben. Und zwar über die UNESCO-Welterbestätten in Deutschland. Wie schon so oft ahnte ich im Vorfeld nicht, welche Mammutaufgabe ich mir da vorgenommen hatte. Es gibt 51 UNESCO-Welterbestätten in Deutschland. Ich habe schon einige davon besucht, aber über manche anderen wusste ich so gut wie nichts. Das bedeutete erstmal umfangreiche Recherchearbeit – und dann wollte ich meine Erkenntnisse in für die Leser:innen einigermaßen leicht verdaulicher Form darlegen. Kurz gesagt: Ich arbeitete fast einen ganzen Monat lang an diesem Artikel, in dem ich alle UNESCO-Welterbestätten je Bundesland relativ kompakt beschreibe.
If you have always wanted to get an overview of the UNESCO World Heritage in Germany, this post is for you!
4. commemoration with the family:
the 7th anniversary of my mother's death
Der April stand wie jedes Jahr im Zeichen der Erinnerung an meine Mutter, die vor sieben Jahren völlig unerwartet verstarb. Sowohl ihr Geburts- als auch ihr Todestag fallen in den April. An ihrem Geburtstag treffen mein Vater, meine Schwester und ich uns immer, um den Tag gemeinsam zu verbringen und ihr Grab zu besuchen. Diesmal hatten wir geplant, am Max-Eyth-See in Stuttgart spazieren zu gehen, wo meine Eltern schon in ihrer Jugend gerne ihre Sonntagnachmittage verbrachten. Da leider das Wetter nicht mitspielte, haben wir kurzerhand unsere Pläne geändert und sind stattdessen dort zum Mittagessen in ein gemütliches Restaurant gegangen. Anschließend gingen wir zum Friedhof. Meine Mutter liebte Blumen, also suchten in der Gärtnerei einen Korb mit schönen Frühlingsblumen aus und stellten ihn auf ihr Grab. Diese besonderen Momente der Erinnerung und des Zusammenseins an ihrem Ehrentag helfen uns, nicht nur mit Trauer, sondern auch mit Dankbarkeit auf die schönen gemeinsamen Erlebnisse zurückzublicken.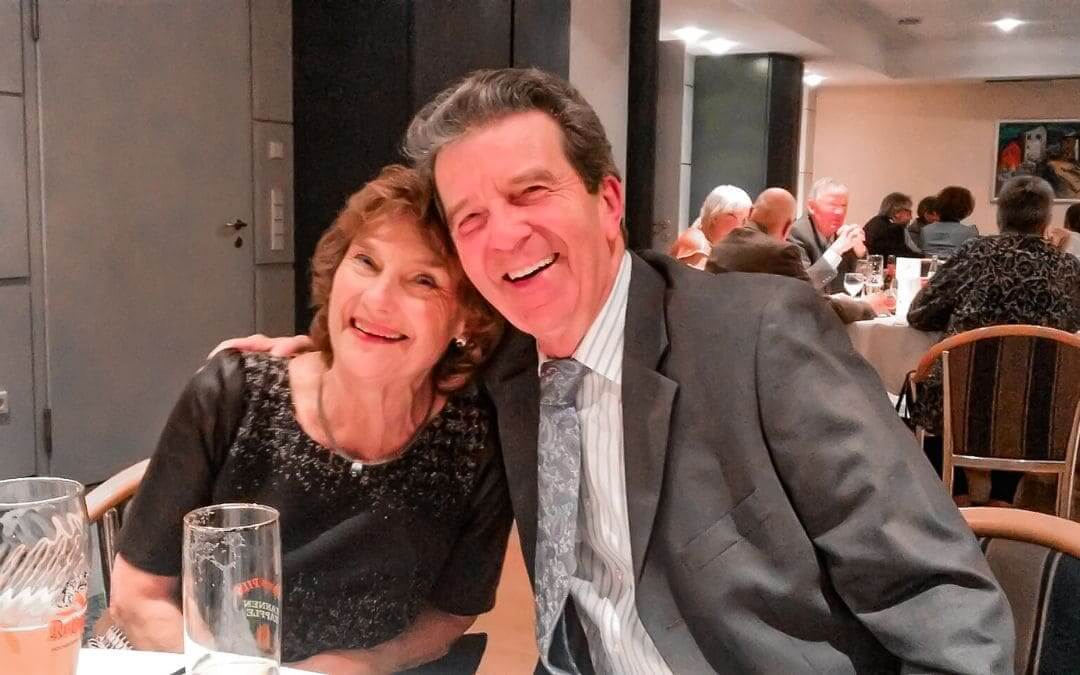 5. Outlook May: What I'm Looking Forward to
Mit meiner Freundin und Ex-Kollegin Judith fahre ich für drei Tage nach Heidelberg, wo wir uns am letzten Tag mit Elvira treffen. Wir drei haben alle mal im gleichen Team gearbeitet und sind jedes Jahr für ein paar Tage zusammen verreist, bis uns Corona einen Strich durch die Rechnung machte. Aber jetzt werden wir wieder an alte Zeiten anknüpfen!
Endlich wieder reisen! Ab 26. Mai bin ich für mindestens drei Wochen auf großer Deutschland-Tour. Zunächst geht es für vier Tage nach Weimar for four days - one of my absolute favorite cities in Germany. Then it's on to Quedlinburg and the Baltic coast near Lübeck, where I spend 8 days each. On this tour there are some UNESCO world heritage sites to discover, which I am very excited about. Stay tuned for more in the May and June review.
Auf einem Teil der Reise wird mich eine meiner besten Freundinnen begleiten. Jutta lebt in Norddeutschland und wir sehen uns meist nur einmal pro Jahr, dafür verbringen wir dann aber ein paar Wochen zusammen.