Since I was primarily on the road in May and June - on excursions, short trips and a more than three-week journey across our beautiful country - I had the feeling that I had been little productive. At first glance, that's true, as I only published three blog posts in these two months. But I also gathered an incredible amount of new material. I got to know new fascinating places, deepened my knowledge and dealt with German history. On top of that, there are thousands of photos that need to be sifted through, edited and sorted. I visited six UNESCO World Heritage sites, explored new cities and regions, and laid the groundwork for a lot of new blog posts. Already existing blog articles - namely about the 100 most beautiful places in Germany, the most beautiful cities in Germany, UNESCO World Heritage Sites in Germany , as well as road trips in Germany - I can revise and enrich with new photos and information.
But most importantly, I spent time with people I love. Beautiful shared experiences mean lasting memories from which you can draw strength when circumstances are not so rosy. But right now it's summer and time to enjoy life!
Heidelberg: Nostalgic Excursion to one of My Favorite Cities
Until the pandemic, I used to travel with two friends and ex-colleagues every year for a long weekend to a beautiful place within Europe. This year we wanted to revive this cherished tradition. Due to family reasons, Elvira could not travel for several days, so Judith and I decided to go to Heidelberg for a few days - where the three of us have met several times in the past. It's relatively easy for all of us to get there, so at least we were able to meet up with Elvira on one day.
About Airbnb we had found a beautiful large apartment - in the middle of the old town and yet quietly located, with two large bedrooms, living room, kitchen and bathroom. We could have easily stayed there for a week, but we had only booked for two nights.
On the first two days, Judith and I explored old and new places in Heidelberg. We walked along the Philosophenweg to Neuenheim, where we enjoyed an Aperol Spritz in a café on the pretty market square. We visited the Karzer and the magnificent Alte Aula in Germany's oldest university, learned interesting and curious facts on a guided city walk, and took the funicular up to the Königstuhl, where we enjoyed the view of Heidelberg from a new perspective.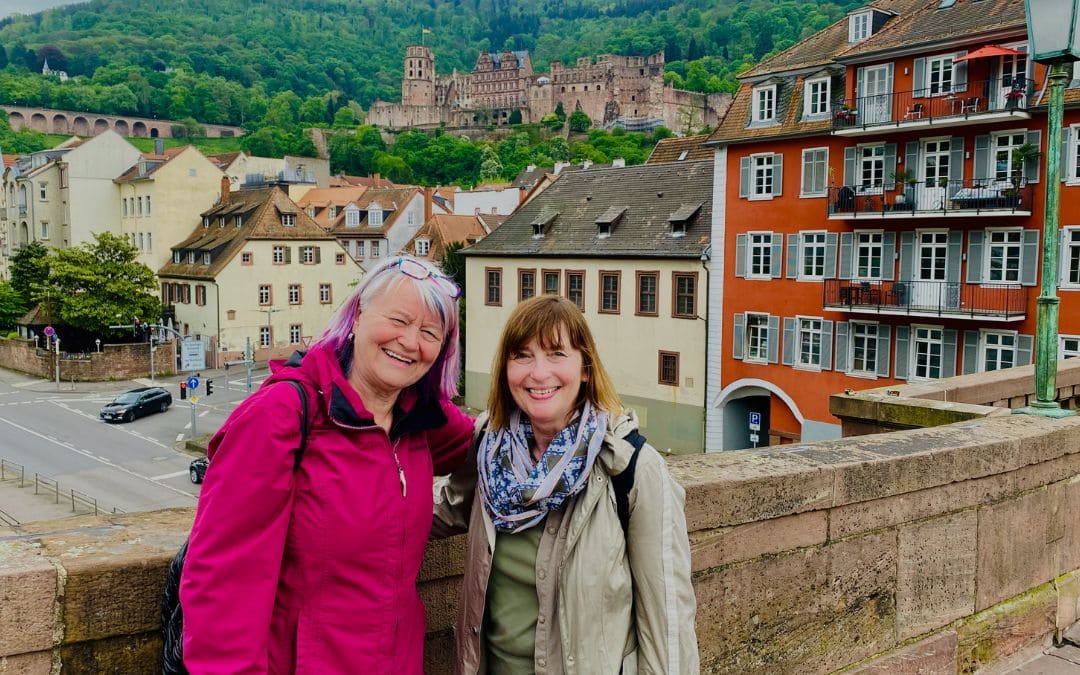 Reunion After the Corona Break
The last day in Heidelberg was marked by the joy of reuniting with Elvira. We had last seen each other in June 2019 on a 4-day trip to Athens. So on this day we moved chatting from café to café rather than from sight to sight. Nevertheless, we visited an interesting house together, which we did not know yet and which I would like to recommend to every visitor to Heidelberg: the Friedrich Ebert House. A very informative permanent and changing special exhibitions in Friedrich Ebert's birthplace commemorate the first president of the Weimar Republic.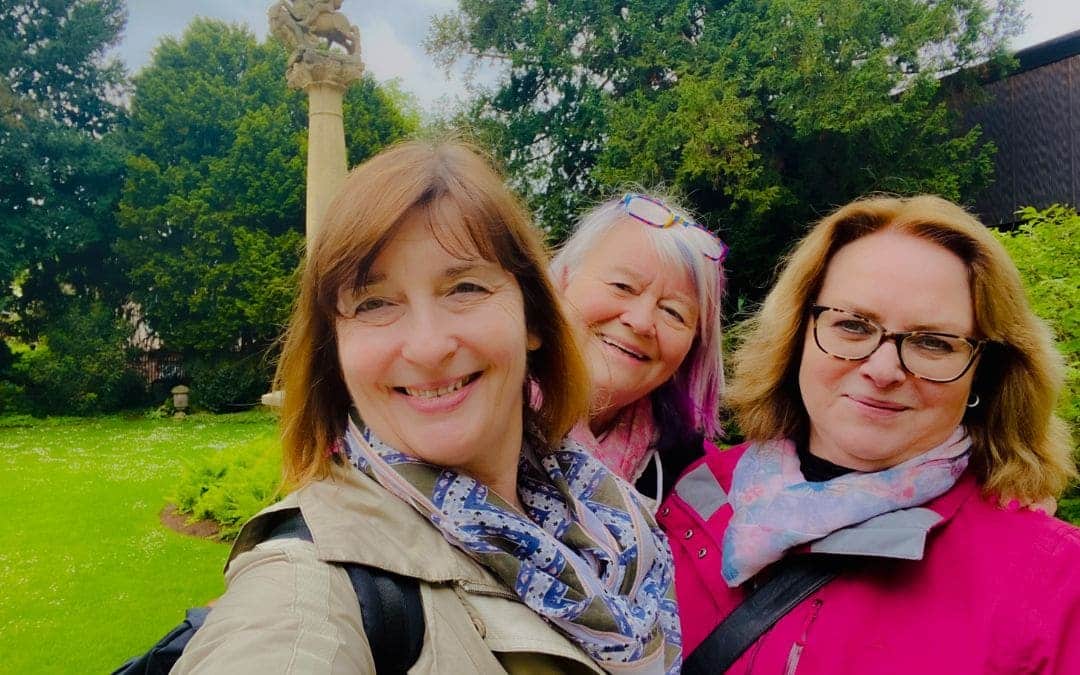 From Weimar to Lübeck: On a Grand Tour of Germany
Starting at the end of May, I was on the road in Germany for over three weeks. When I wrote my blog post about the 51 UNESCO World Heritage Sites in Germany, I became so curious to see some World Heritage sites I had not yet visited that I decided to get to know more as soon as possible. Therefore, I integrated some of them into my planned itinerary from Weimar via the Harz Mountains to the Baltic Sea near Lübeck.
Weimar: Back in the Classical City
On May 26, I set off. My first stop was Weimar, which I had already visited in 2021 on a Road trip from Eisenach to Berlin. At that time, I was totally thrilled by the relatively small city with the incredible cultural heritage. Since I had by far not seen everything that interested me, it was clear: I'll be back! Until April, I didn't think that I was going to turn this wish into reality so soon, when I realized that I would be passing Weimar on the way to Quedlinburg anyway. I like to interrupt long car trips for a few days in a beautiful place. So Weimar again!
Buchenwald: Monument of Horror
This time I definitely wanted to visit the Buchenwald Memorial, , for which I lacked the time in 2021. I went to Buchenwald on Whit Sunday and was able to join a guided tour. I can only recommend this guided tour to everyone. The area of the former concentration camp (where, by the way, immediately after the end of the war the Soviets set up Special Camp No. 2, which existed until 1950) has enormous dimensions, and the expert briefing helps with both understanding and orientation in this oppressive place.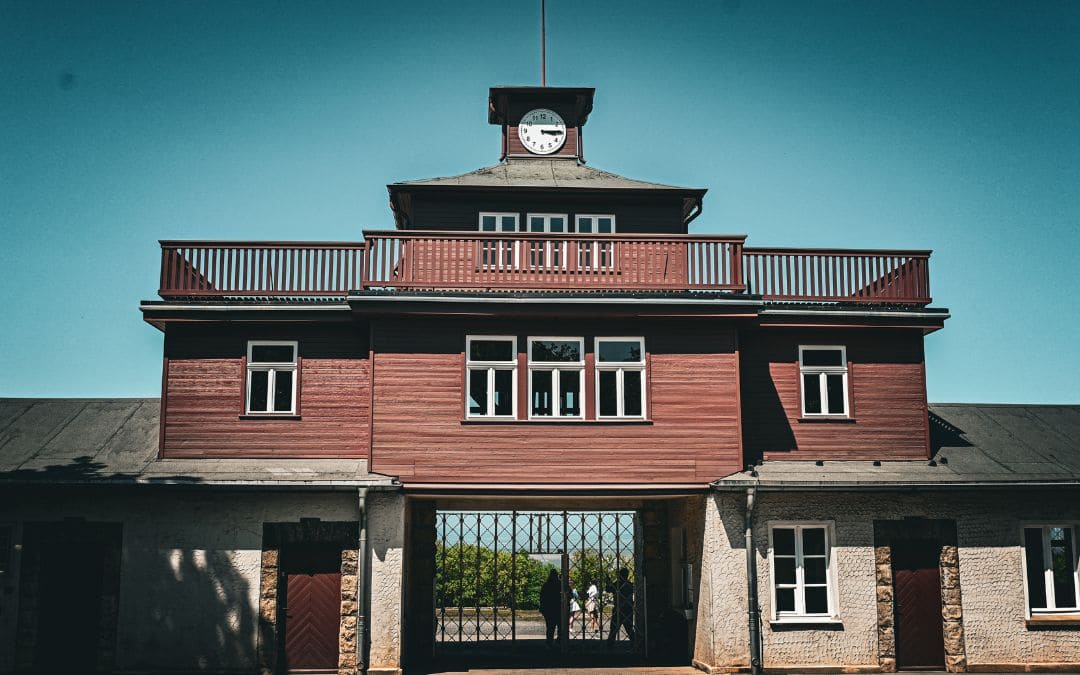 German National Theater: A Night at the Opera
This time I finally got myself a show in the German National Theater which Goethe directed for years and where most of Friedrich Schiller's plays were premiered. When I was in Weimar, to my regret, no play by Goethe or Schiller was performed. So I decided to go to the opera "Ariadne auf Naxos" by Richard Strauss. An impressive experience! I didn't know that you can spend the break on the terrace with a view of the Theaterplatz when visiting the theater - it was the cherry on top of the icing on this beautiful summer evening 🍒 😎.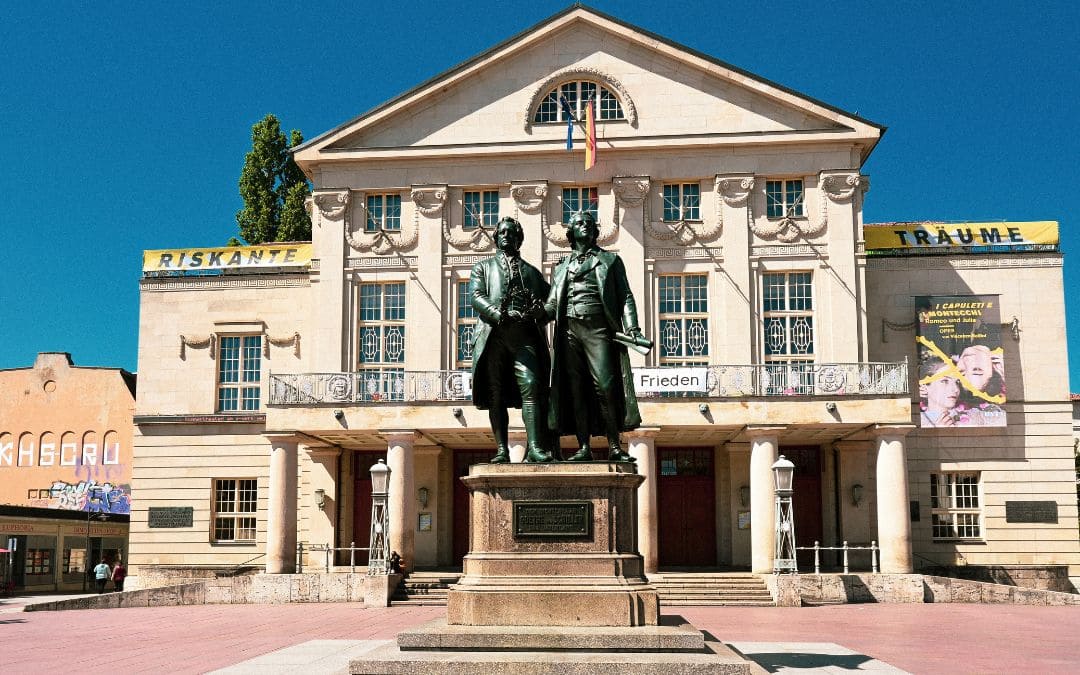 Naumburg Cathedral - One of Germany's "Youngest" UNESCO World Heritage Sites
From Weimar it is only 50 km to Naumburg - so what could be more obvious than to also visit the Naumburg Cathedral one of the most beautiful churches in Germany. Since 2018, the cathedral is on the UNESCO World Heritage List. I booked tickets online beforehand for a tour of the tower and a guided tour of the cathedral. The strenuous climb to the top of the northwest tower was rewarded with a fantastic view of Naumburg and the Saale-Unstrut region, and in the best weather you can hope for! During the tour of the cathedral, I learned a lot of interesting facts about the works of art, for example about the famous statue of Uta von Ballenstedt, called "Uta von Naumburg", supposedly the most beautiful woman of the Middle Ages.
By the way, Naumburg is located in the middle of Germany's northernmost quality wine-growing region, the enchanting Saale-Unstrut-region, where you can certainly spend a few enjoyable and relaxing days of vacation.
The Harz Mountains: Nature and Beautiful Half-Timbered Towns
The next stop on my road trip was the UNESCO World Heritage city of Quedlinburg, from where I wanted to explore the Harz Mountains. I was here before about 20 years ago for a few days and was curious how the city had developed. At that time, many of the old buildings were being renovated and many were scaffolded. In fact, it was not much different this time. The initial disappointment that extensive renovation work was currently taking place on the Schlossberg quickly faded, and I took part in a guided tour of the city on the very first day. The climb up the Schlossberg was worthwhile despite the construction work, because the collegiate church of St. Servatius - one of the most important buildings of the Romanesque period - can be visited. The 1000-year-old building with the famous cathedral treasure, the richly decorated capitals on the columns in the nave and the crypt impressed me, even though the sarcophagus of the first German king Henry I has disappeared. From the Abbey Gardens, I had a magnificent view of Quedlinburg and its surroundings!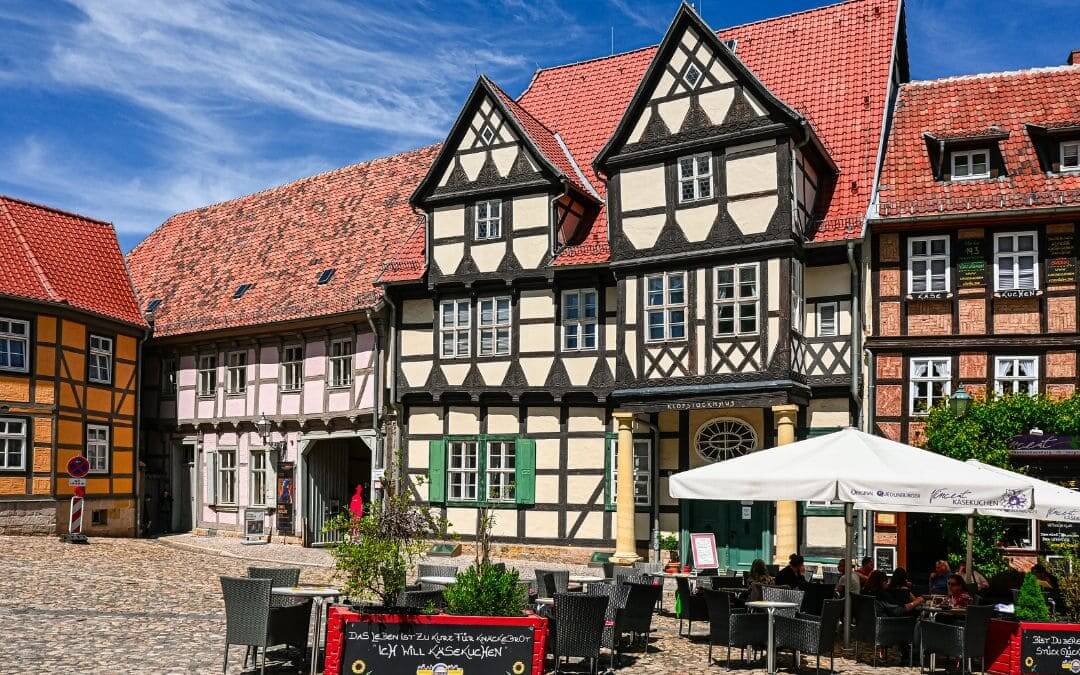 Exploring Wernigerode and Goslar
The next day I drove to Wernigerode with its beautiful half-timbered old town. A visit to the castle here was also worthwhile for the view of the surroundings from the Agnesberg. And how could it be different - renovation work on the castle also took place here 😏
From the next day on, my friend Jutta accompanied me on my journey. Jutta is one of my oldest friends. I met her in 1989 during my time in Bremen (I lived there from 1984 to early 1992). My move back to my hometown in southern Germany did not harm our friendship - we have visited each other and spent vacations together all these years. So now I picked her up at the Goslar train station.
Goslar's old town and the Rammelsberg mine have been on the UNESCO World Heritage List since 1990. The Oberharzer Wasserwirtschaft was added in 2010 as the most important pre-industrial mining water management system. We drifted through the old town alleys with their many richly decorated half-timbered houses, admired the magnificent town hall and the mighty imperial palace built by Emperor Heinrich III in the 11th century.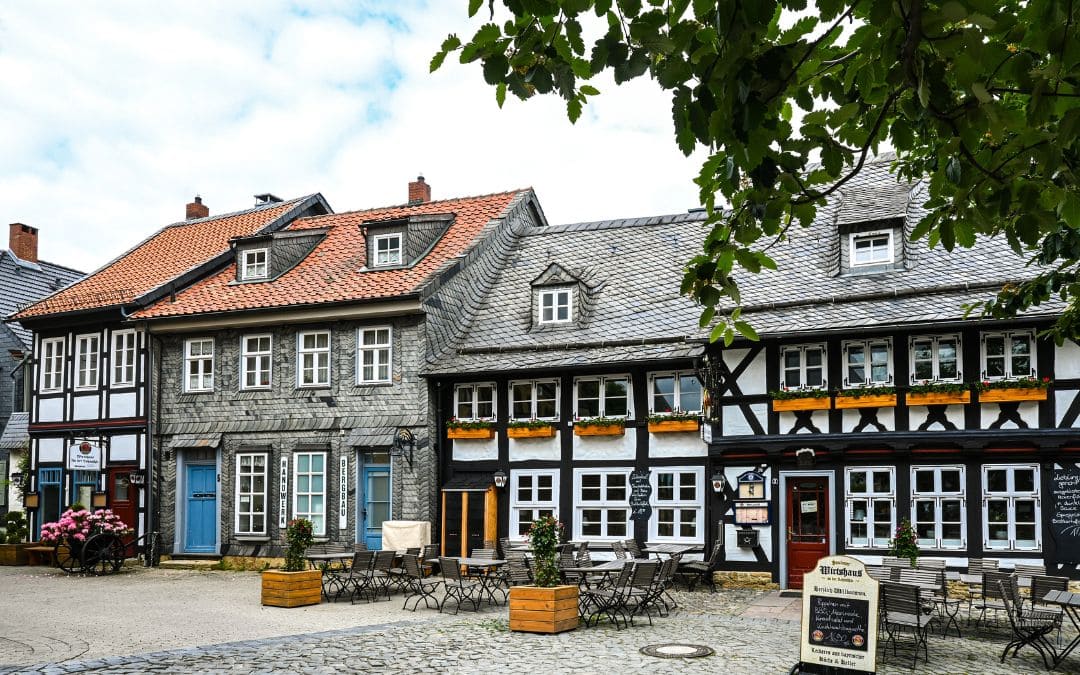 Nature Experiences in the Selke and Bode Valleys, Architecture in Halberstadt
With Jutta I spent a few more eventful days in the Harz mountains. We took the Selke Valley Railway from Quedlinburg to Alexisbad. The ride with the historical steam train is a truly nostalgic experience! In Alexisbad, we enjoyed nature on a scenic hike along lonely forest paths. On a Monday (wise decision! - on weekends the place is too busy on such a beautiful summer day) the cable car took us to the Hexentanzplatz high above Thale, where the panoramic path along the cliff edge offers stunning views. offers. I was glad about my walking sticks, because up there it goes partly over stick and stone and large boulders. In the afternoon we still had time for a walk in the romantic Bode Valley. On another day, we visited Halberstadt and marveled at the massive Cathedral and the contrasting cityscape of the partially reconstructed (half-timbered) old town and prefabricated buildings from GDR times. Behind the Liebfrauenkirche we found the enchanting Café "Zum Steinhof with delicious homemade cakes and idyllic garden.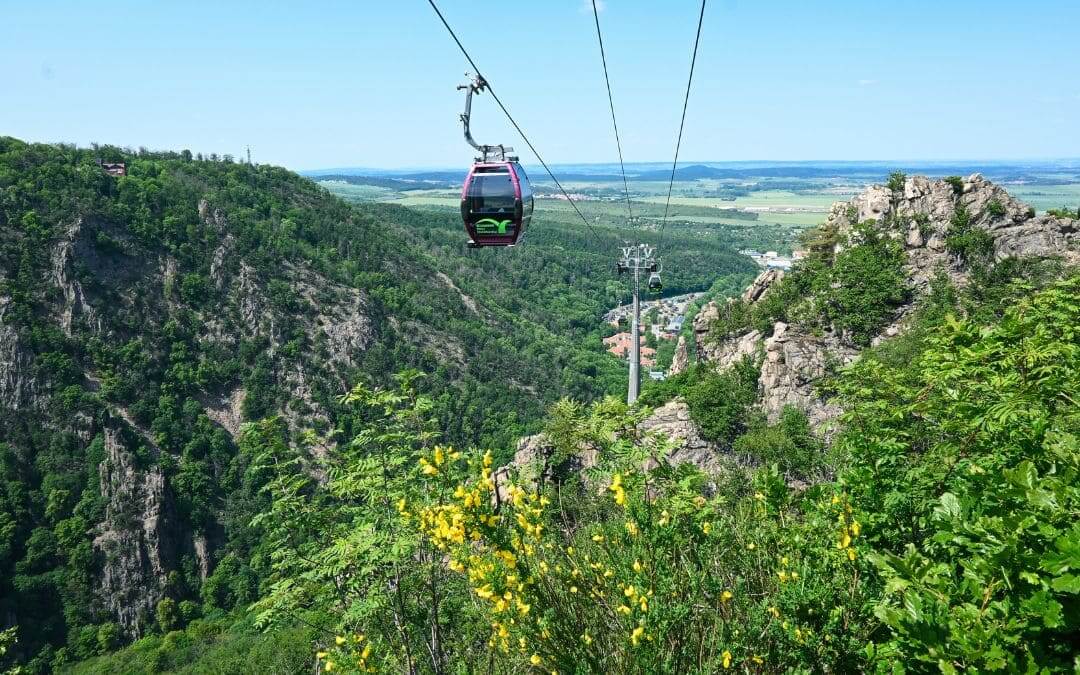 On the onward journey to Timmendorfer Strand, we added two more highlights to our route: In the Goslar district of Hahnenklee-Bockswiese there is the Gustav Adolf Church, a stave church built according to the Norwegian model. It was built in 1907/1908 in only 10 months and is a magnificent building. Unlike its smaller Norwegian counterparts, it can accommodate 350 parishioners. There are fascinating details on the facade, such as the dragon heads common to Viking ships (and stave churches).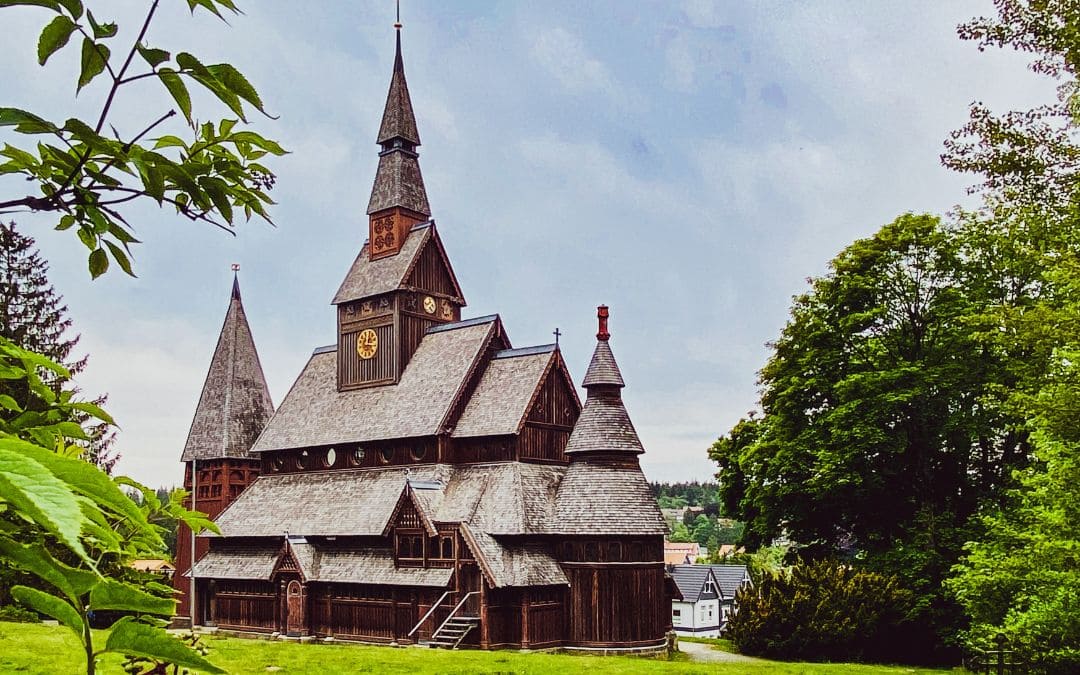 A Week at the Baltic Sea: Sea Breeze, Fresh Fish and Old Hanseatic Cities
In Celle, we took a longer break and strolled through the old town, which is well worth seeing, with its about 500 half-timbered houses, the Old Town Hall in the Weser Renaissance style and the castle, which was the seat of the Dukes of Lüneburg from the 14th century until 1705.
Shortly before closing time (and before arriving at our vacation destination) we bought groceries in Bad Schwartau. When we reached our domicile, we were pretty exhausted from the eventful and exhausting day. The apartment was nice, spacious, quiet and had a large terrace with a view of the garden - just as it said in the description of Airbnb. But my blood pressure immediately rose to 180 when I noticed that neither the beds were made, nor bed linen and towels were available. Luckily, I reached the landlady, and she arranged with the cleaning company that the laundry was still brought to us right away. The first night was saved, and now nothing stood in the way of a relaxed last week of vacation.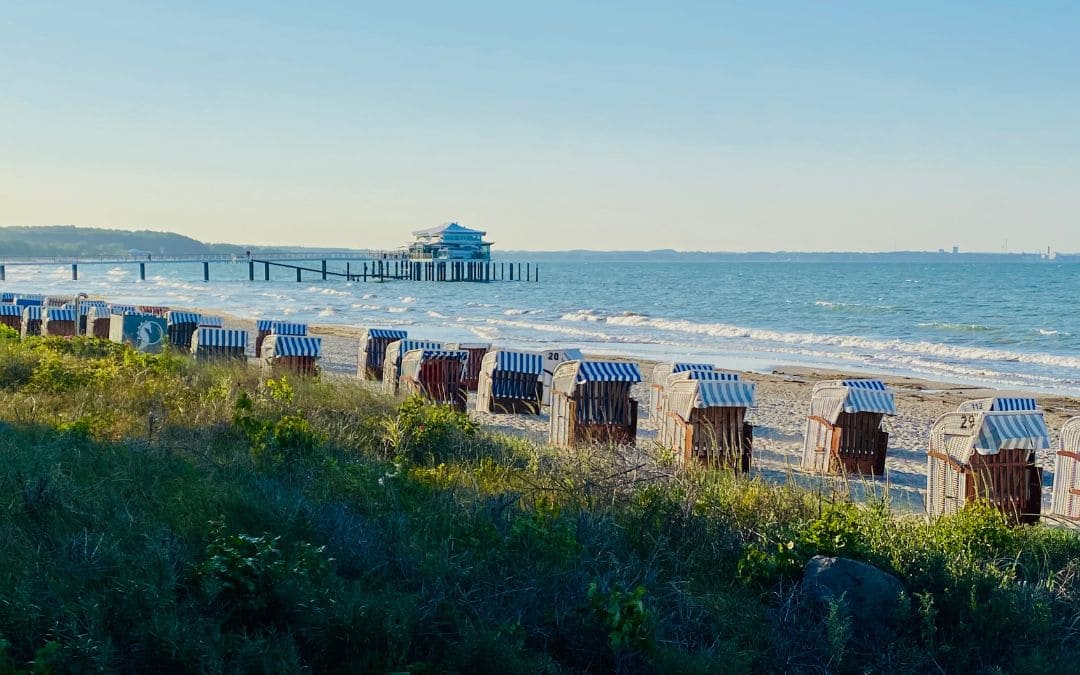 Maritime Flair at Timmendorfer Strand and in Lübeck
Timmendorfer beach is a really nice vacation resort, with a well-kept beach promenade, blue-and-white-striped beach chairs and a pier - just as you would imagine a Baltic resort. We especially enjoyed walking to Niendorf Harbor in the evenings, where you can enjoy freshly caught fish at the stalls with a view of the rocking fishing boats.
I had chosen Timmendorfer Strand as our location on the Baltic Sea because it is only 18 km from Lübeck and it was the perfect choice! We spent Jutta's birthday on June 8 exploring Lübeck, one of my new favorite cities in Germany. Lübeck is beautiful with its Hanseatic flair and stepped gable houses. It's on the UNESCO World Heritage Listfor good reasons. After our tour of the city, we were able to admire the magnificent cityscape from a different perspective on a boat tour. Afterward, the Fangfrisch at the Untertrave was the perfect choice for a birthday dinner. The young, dedicated team spoiled us with delicious fish dishes. And because it was so nice, we went to Lübeck a second time, where I visited the Buddenbrook exhibition, which has been moved to the Behnhaus Drägerhaus while Thomas Mann's childhood home is being renovated (probably until the end of 2023).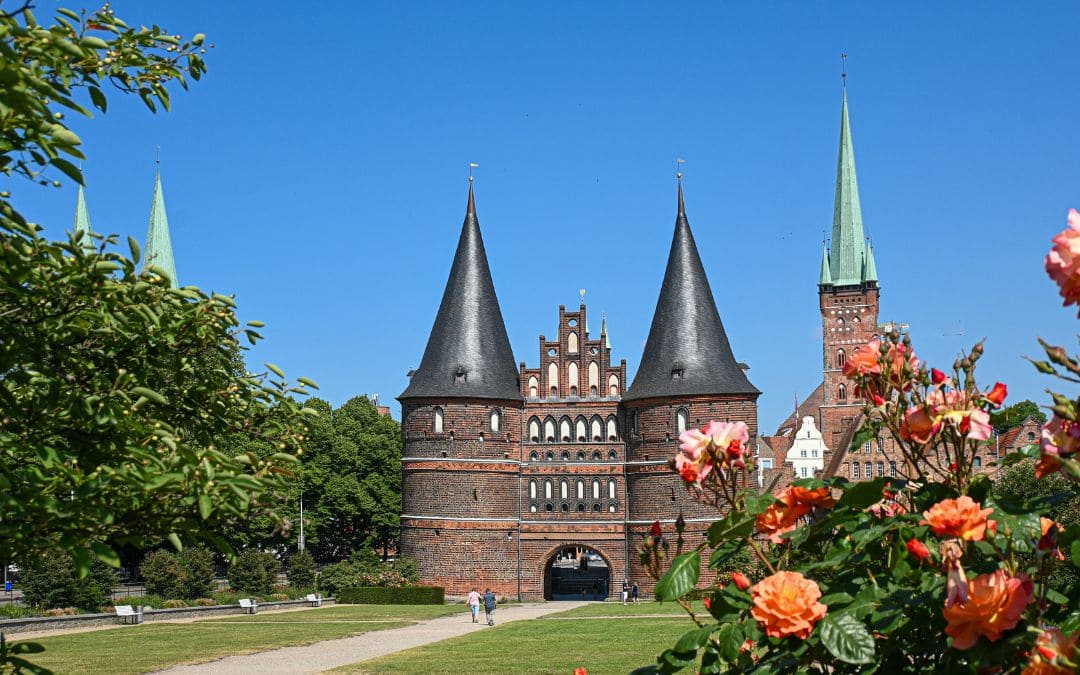 A Flying Visit to Mecklenburg-Western Pomerania: the Old Hanseatic City of Wismar
Another highlight was our trip to Wismar, which is only an hour's drive from Timmendorfer Strand in Mecklenburg-Vorpommern. The old Hanseatic city was spruced up after the German reunification, and in 2002, together with Stralsund, was included in the UNESCO World Heritage List. recorded. I honestly had no idea about Wismar until I wrote my post about World Heritage Sites in Germany and realized that it's not that far from our location on the Baltic Sea. If you have the chance, I definitely recommend paying this city a visit. The Wasserkunst is a unique building, but also the whole old town and the harbor are worth seeing.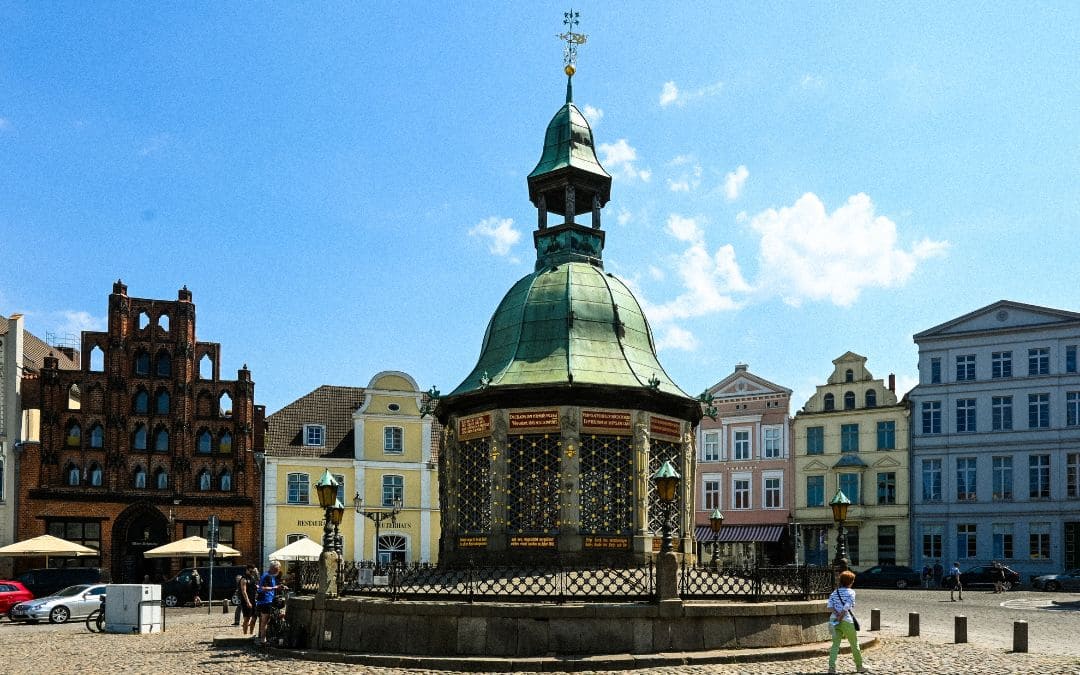 Spontaneous Stopover on the Way Back Home: Bergpark Wilhelmshöhe and Kassel
The original plan was for Jutta to come home with me for another week, but because of a doctor's appointment, she could have only stayed for three days. For that, it would not have been worthwhile to drive the 800 km with me to the south and then back again by train. Since I didn't want to drive the long distance in one go, I decided to take a look at another UNESCO World Heritage site that lies halfway between Lübeck and Stuttgart: the Wilhelmshöhe Park. That was a good decision, because the Bergpark is well suited for a relaxing day in the green. As I already experienced with other sights, renovation is underway and half of the Hercules is scaffolded. But I don't want to complain - it's good and important that cultural treasures and historic places are maintained.
I knew that the famous water features can only be seen on Wednesdays, Sundays and public holidays. I was in the Bergpark on a Thursday and had just reached the foot of the cascades. Did it even make sense to climb the 885 steps to the Hercules, who didn't look very attractive framed by scaffolding and two cranes? Suddenly a strange humming sound rang out and while I was still wondering what it could be, water was flowing down the cascade stairs and filling the pools. What luck! Apparently a test run was taking place, and I was in exactly the right place at the right time!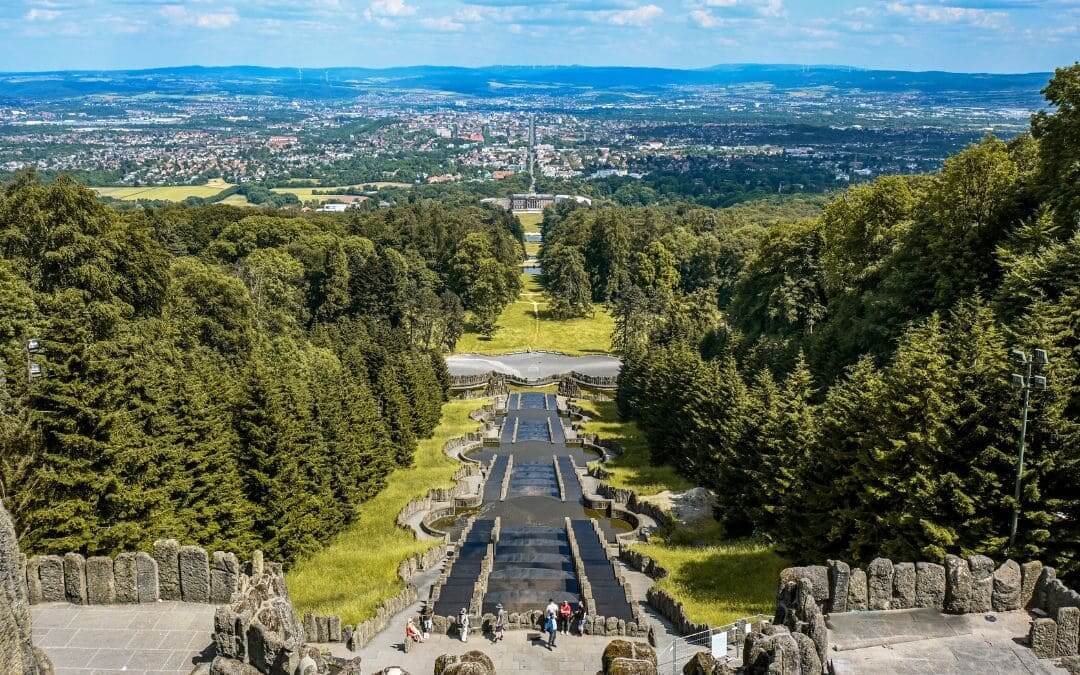 The Bergpark is Kassel's biggest gem and definitely worth a visit. There are only a few interesting buildings in downtown Kassel, as the historic old town was largely destroyed during World War II. Worth seeing is the listed market hall, where at Mamma Patrizia's I enjoyed a delicious Italian breakfast for € 8.90 (!). The Orangery in the spacious Karlsaue and the Fridericianum - an important art museum and every 5 years the center of the documenta - are among the few buildings that were restored after the war. In the GRIMMWELT is all about the life's work of the famous fairy tale collectors Jacob and Wilhelm Grimm, who spent about 30 years of their lives in Kassel.
Blog for Reel in Blogger Annual Program
On my trip, I had mostly bad internet and little time for Instagram. Therefore, I only posted Stories and no regular posts, which resulted in the loss of some followers during the three weeks. That's why Judith Peters' Challenge Blog for Reel came just right for me: 10 reels in 10 days. Judith had developed an excellent tutorial on creating reels, which taught me a few new things, even though I've been working with reels for a while. Now I finally manage to use the Instagram app to insert text into the reel where I want it 😆. It was a little exhausting, but I definitely had enough material from my trip. I was able to make up for the lost followers with my ten reels. Even though the challenge is over, I am still benefiting from it and gaining followers as my reels seem to keep getting displayed. I can only recommend everyone who uses Instagram for their online marketing to get used to reels, because they definitely create more visibility than normal posts. Thanks for this idea and the great tutorial, Judith!
Outlook: What I'm looking forward to in July
Pinterest sprint at The Content Society: In Judith Peters' annual blogger program, there's a main topic every month. In July it's Pinterest's turn. I haven't been involved with it at all yet, but I think it's a good way for travel bloggers to become more visible. That's why I'm determined to take the course and create my first pins in July. Yeah! 😎👍
Blog more. Two blog posts I want to write in July in any case: A post about the highlights of Weimar (as already mentioned, one of my favorite cities), the second one about the most beautiful Christmas markets in Germany (yes, in midsummer! 😂 Because I want this post to Google rank reasonably well until the fall. I have collected information and photos for it on my travels in December 2022). In addition, I would like to revise my post about the most beautiful cities in Germany - a few cities have to be added!
One week Munich and Innsbruck with my sister and a friend: My sister turned 60 in March and has wished for her birthday this trip with her best friend and me. All three of us want to get to know Munich better. From there it's only a two-hour drive to Innsbruck - and that's where my daughter Anna lives 😍. With her, we will spend an active weekend in the mountains 😃
And how have the last two months been for you?
What are your plans for July? Are you going on vacation? Drop me a line in the comments! I look forward to hearing from you 😃